Igloo Dining at Pietro's




Experience the Great Outdoors with our Refreshed Igloo Dining Area
Come dine with us in our newly refurbished outdoor dining area, where you can experience the great outdoors in style. Enjoy a delicious meal surrounded by beautiful seasonal decorations that create a festive atmosphere. Our outdoor party space is perfect for celebrations, whether it's a birthday or a special occasion. Additionally, our heated igloos provide a cozy and protected environment for diners to enjoy their meal, even during inclement weather. We can't wait to host you at our outdoor dining experience!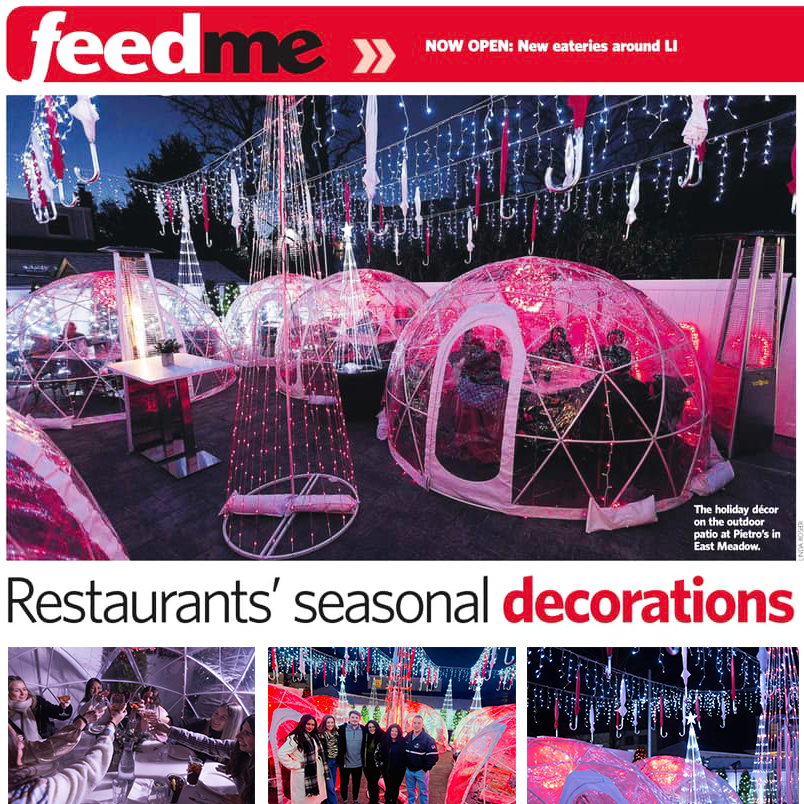 Pietro's Featured In Newsday


For our outstanding outdoor seating &  holiday decor!
The holiday spirit is alive at this Italian restaurant, which recently entered its third generation of family ownership. Pietro's owner, Lauren Maslov, whose grandfather opened the original Pietro's in 1976, finds that decorating the restaurant is her "passion project" – down to every detail. We hope that you find our pizzeria to exude a festive, yet toned-down, cabin-like feel, whose charm and decor is magnified as you walk into the main dining room.

Look for seasonal colors adorning the room and a faux shrubbery wall adorned with lights, florals, and other festive decorations. Our holiday themes carry over into the backyard, where customers can dine in one of six igloos set up in our very own winter wonderland filled with string lights, our signature red and white umbrellas, and decorative trees.
Planning a party or celebration? Pietro's outdoor dining space is the perfect backdrop to your next event. Call
(516) 794-8820
for availability and details.